Listener #4 — Writing with a timer, answers to Substack open thread questions, and podcasts for informal learning
A Gymboss, an iPad, and a few links
Having some writer's block so I'm going to re-purpose some of the open thread questions from the Substack Blog as writing prompts: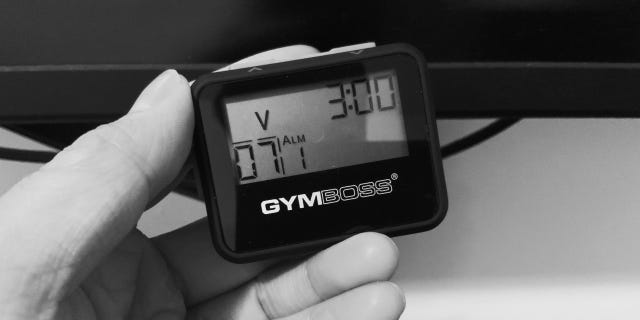 As mentioned, I've got some writer's block going right now. I've been starting a bunch of writing but not finishing it. In that sense, it's not going well.
I bought an interval timer thinking I can write better with a timer. I've currently got it set to 7 rounds of 3 minutes. Could be worth experimenting with different interval settings.
Okay it just vibrated so I'll move to the next section.
I'm writing this on day 15 indoors. I've left the building for 15 minutes to drop the package off at UPS. Nothing else other than that. We've been using different services to get grocery delivery. (Hunting for open time slots gives me flashbacks of Nike virtual wait lists.)
Anyway, here's where I liked to write before this.
Sitting on the subway

Starbucks

Gym lobby

Walking around Central Park
All pretty much unavailable now. Here's where I've been writing during this.
Treadmill (iPad + iPhone combo)

Desk

Couch
Oh yeah here's one non-grocery delivery I was pumped about.
I had the previous iPad Pro so the summary of the new iPad Pro will be pretty quick: it's pretty much the same for what I do with it. I did upgrade from an 11-inch to the 12.9-inch so that feels a lot different. The more interesting piece will be the Magic Keyboard set for May. That's also going to work with the old version.
I've got my fair share of tablet accessories from the past few years. I didn't use the vertical stand all that much because it wasn't great to have to reach up so high all the time. Now that there's better mouse support, I can see using this a lot more.
I'm better able to focus on one thing at a time with iPadOS. The portrait form factor is nice to switch to when writing.
The best thing about the iPad: I can start drawing without getting out of flow. When some image comes to mind, I can switch over to Procreate and start drawing on a notecard.
Not that I'm in some meditative focus state when writing, but I always end up losing all focus when I switch from a MacBook to my iPad to draw something because now I have two devices with a bunch of possible distractions.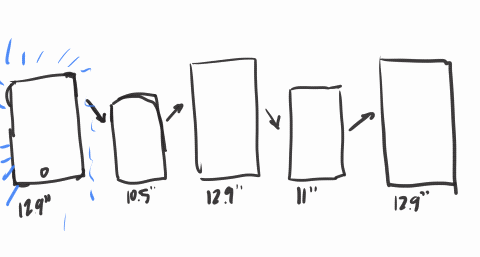 And here's where I liked to write digitally
(Some day I hope to!)
I don't have 100 subscribers here. But I've built up an email list in the past of 250-300ish people. Here's what I did then:
Wrote one post that was shared very widely. I shared it on Twitter and tagged an author of another post that inspired that post. Then that got a retweet and on and on.
Which is to say: it's not exactly something I can recreate. But one thing that should work is to continue writing and sharing. I want to post this on Tuesday (2 days late because I try to post by Sunday) because Wednesday seems too late to really even count. I don't want to break that streak.
Links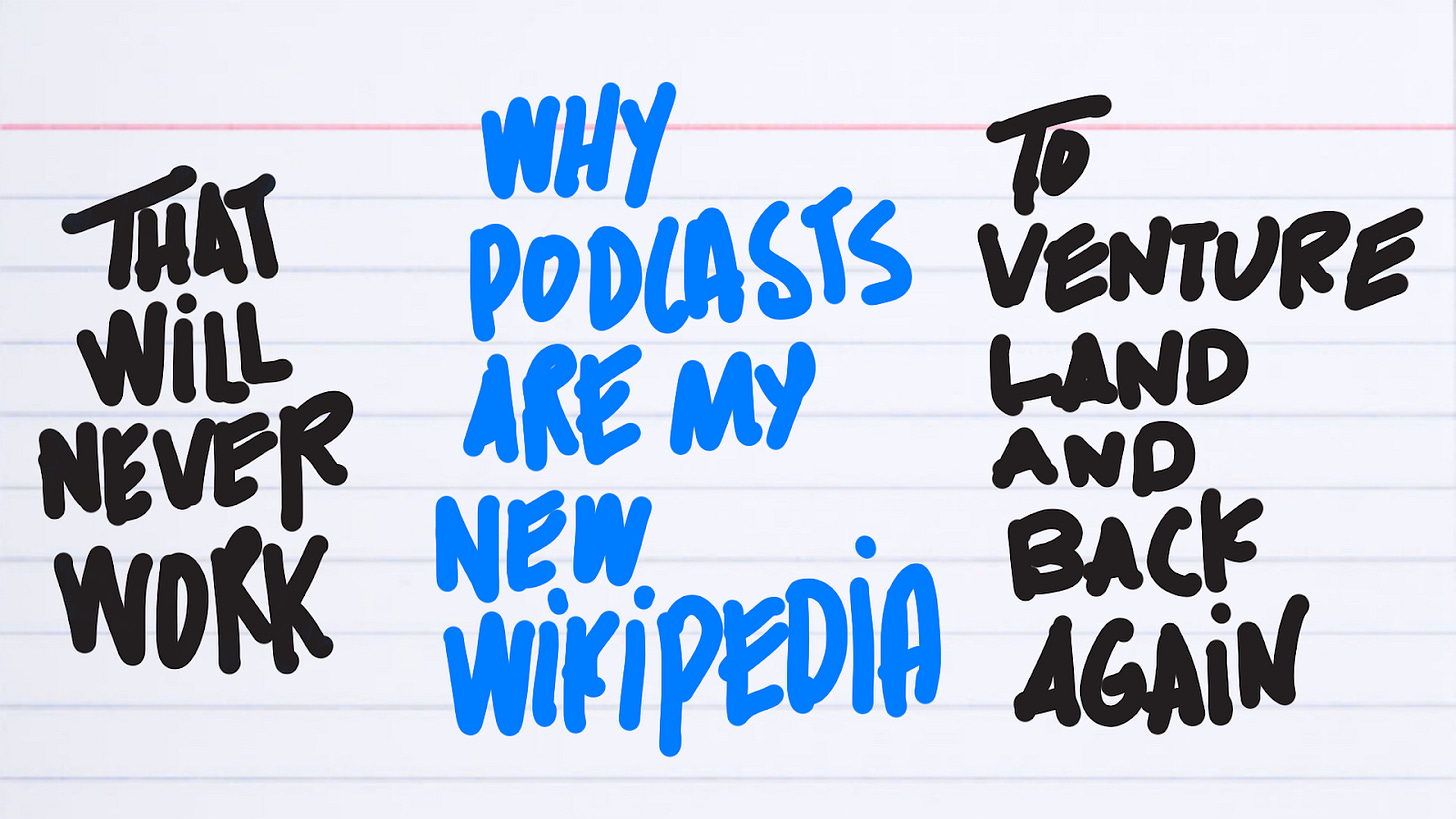 I really haven't listened to as much stuff the past couple weeks at home, but I'm continuing working through That Will Never Workwhile walking on the treadmill or doing dishes.
Oh yeah and I found a lot to relate to in Wenbin Fang's blog post: Why Podcasts are my New Wikipedia. As far as podcasts go, he's the super listener of super listeners. He made a tool (Listen Notes — proudly a 1-person operation) that you should be checking out.
I've been experimenting with the process he lays out in that blog post. The gist: you delete all subscriptions and subscribe to a custom playlist that you add single episodes to. Early impressions: It's been pretty refreshing to not have so much FOMO opening Overcast in the morning.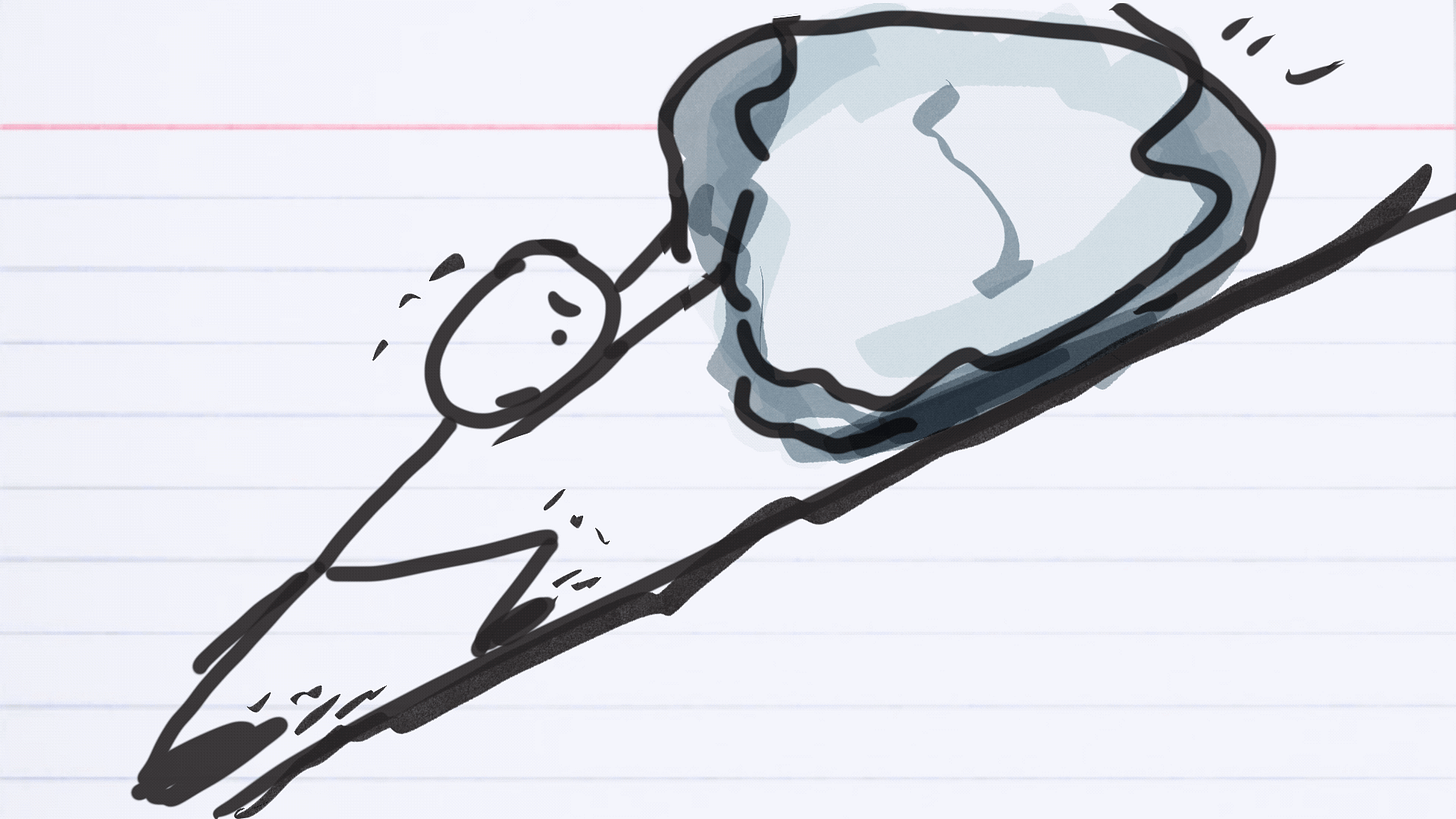 I also enjoyed Sahil Lavingia's interview on the Venture Stories podcast. He's asked about early users and he says it was like pushing a boulder up a hill.
The thing that's stuck with me the most is that people often ask him what it was like to be an early employee early on. You get this idea of what it is and that what you'll see about startups in pop culture is, of course, very dramatized. Instead, it was a few people in a room with iMacs writing and pushing code.
It looked… normal.
And he looks at that as a good thing. You can build something millions of people use from a setting like that.
You're likely sitting at home with a computer. You can do so much from there.
(Like write a newsletter with no subscribers. Catch you next week!)